Intelligent Library System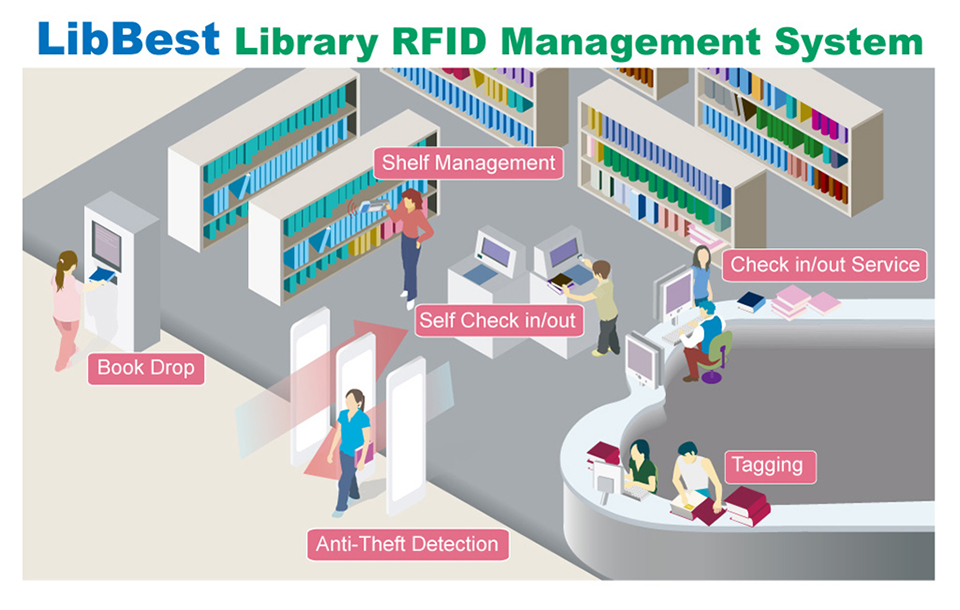 Application advantages of RFID technology in Tansoc
RFID technology is not only a simple substitute for barcode, its systematic application will bring the revolutionary influence on the whole work flow, traditional service and library management. Compared with traditional barcode and magnetic strip, its advantages mainly in following four aspects:
1.Improve the book borrow-return efficiency
The traditional barcode and magnetic stripe technology require the staff to open the title page of book and find the barcode, then scan and degauss which is inefficient in borrow-return. RFID readers can read information in a non-contact way. And with anti-collision function of RFID technology you can read and identify multiple books at the same time, thereby enhancing the borrow-return efficieny and readers reception capacity.
2.Improve the service level
Through the self-service borrow-return peripheral equipment, readers can find the shelf number of book through network system, which will be quickly and accurately to find the required books. Self-service in borrow-return procedures will bring convenience to the readers. The library can reorganize to save human resources and switch from traditional management to serve readers and other value-added services.
3.Strengthen the collection management
In open bookshelf stacks, as a librarian, it usually takes a lof of enengy to find and classify books that in disorderly, workload and work intensity is relatively large. By entering the book shelves information into RFID stystem, the staff can find the disorderly book information through the hand-held reader during the daily checking, which makes the sorting become more easily.
4.Strengthen anti-theft monitoring capabilities
Traditional magnetic strip anti-theft system often appears false alarm, not completely degaussing wrong alarm and many other non-real steal alarm. The RFID access control system can through integrated reader to determine whether the book being cheked for misleading or omitted books through borrowing records, and then determine whether to make an alarm action or not which can reduce the missing and false alarm rate.

Library RFID Intelligent system in Tansoc
The core of the library RFID electronic label management system is using RFID label technology to achesive automatic date collection. Combined with the database and software management system to achieve self-service borrow-return、 books inventory、postback the books on shelves、 books retrieval、 books anti-theft、library cards management、library cards issuance and information statistics etc.
Library RFID Intelligent system including:
Books Entry
New entry books need with RFID label recording, stick label to each book, and pass the book information and storage position to the background management database. RFID label can last longer than general barcode and magnetic stripe.
Book Shelves Management
The librarian can postback the books on sheves and classify books that in disorderly base on RFID tags, and using hand-held reader can make an inventory of books easily which can reduce librarian's workload and improve working efficiency.

Self-Service Library Cards Processing System
Tansoc Library RFID system has a set of software control system and issuing cards system in order to facilitate readers handling their library card by themselves.

Self-Service check& Renewal System
Readers can use any networked computer to operate, self-service check and storage position, also can renew the books.
Self-Service Borrow-Return System
Readers use self-service borrow-return system can reduce the librarians' worklaod and improve the libraries' service level.
Security Door System
Antomatically reading the books that in the situation of borrow-return, effectively preventing books from being stolen.
Library Intelligent System Equipment
RFID books label, RFID tablet
RFID book shelves label
Hand-held set, Channel Detection equipment
Self-service borrow-return equipment